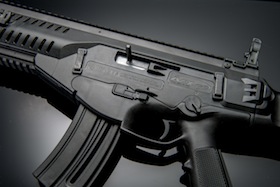 Cost is $175. Self Defense Rifle I is a 4 hour class that covers the skills required to tactically deploy a rifle for the protection of life. Two-hours will be spent in the classroom dry firing and practicing with dummy rounds…two-hours will be spent on the range engaging in various tactical exercises.
Topics covered during the class:

- Examining the Law of Deadly/Lethal Force & Self Defense
- Review of The Castle Doctrine
- Safe Weapon Handling Skills
- Multiple Positions Shooting
- Movement, Verbal Commands & Shooting at The Same Time
Students can bring their own pistol caliber rifle/carbine or choose from the following firearms (provided at no charge):
Just Right Carbine, .40 S&W with EOTech
Glock RONI 9mm Carbine with EOTech
CMMG 9mm AR-15 with Aimpoint T1
Beretta CX4 9mm with Aimpoint PRO
Smith & Wesson M&P 15-22, .22lr with Iron Sights


Please bring the following gear to class:

- Your LTC
- Rifle of your choice or use one of ours at no charge
- Eye & Ear Protection (We have plenty at the range if you do not have your own)
- 150 rounds of ammunition
The only prerequisite for this class is that you have a LTC.
You will receive a certificate upon completing this class.

Robert MacQuarrie (SWAT)
Franklin Police Department Training Officer (Firearms, Active Shooter, Less Lethal)
Firearms Instructor, Massachusetts Police Training Committee
Metro-LEC. Regional S.W.A.T. & R.R.T. Teams


****Please Note: This is not a learn to shoot class. Attendees must have a proficient understanding of their firearm, including loading, unloading, and firing the firearm safely. If you would like to better familiarize yourself with your firearm before taking this class, please sign up for a Personal Range Time with an MFS Instructor here.