Advantages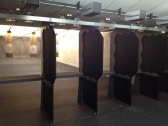 Decide ahead of time which firearm is for you when you have personal range time with one of our instructors.
Purchased a new firearm? One of our instructors will help acclimate you to your new firearm (includes instruction in acuracy, cleaning, and anything else you want to know).
Testimonial
The training was beyond helpful, having no formal training in scoped rifles, after an hour I was hitting sub 1 inch groupings at 100 yards...I had a great time, learned a ton and became a more skilled and safer shooter. I can not think of a single thing which MFS could do to improve, the FID class was great, reasonably priced and I have recommended the one-on-on instruction to all my friends...I could not have asked for a better experience.