Advantages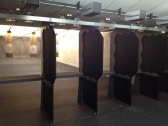 Decide ahead of time which firearm is for you when you have personal range time with one of our instructors.
Purchased a new firearm? One of our instructors will help acclimate you to your new firearm (includes instruction in acuracy, cleaning, and anything else you want to know).
Testimonial
I participated in a class today. The instructor, Dan Donahue, was outstanding. He exemplified what a good instructor is all about. I've taken many classes over the years (not necessarily in firearms). However, in comparing this to others classes I've taken, this is by far one of the best. I look forward to attending many more classes.