Advantages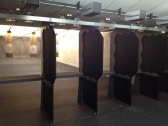 Decide ahead of time which firearm is for you when you have personal range time with one of our instructors.
Purchased a new firearm? One of our instructors will help acclimate you to your new firearm (includes instruction in acuracy, cleaning, and anything else you want to know).
Testimonial
Everyone I spoke to told me I would never get a license to carry in my town. With the help of MFS I got an unrestricted license in only 3 weeks. Thank you MFS!