Advantages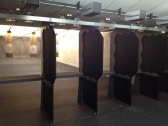 Decide ahead of time which firearm is for you when you have personal range time with one of our instructors.
Purchased a new firearm? One of our instructors will help acclimate you to your new firearm (includes instruction in acuracy, cleaning, and anything else you want to know).
Testimonial
Just wanted to say thanks to MFS. I've taken several training classes and all the instructors have been great! When I took the LTC class the instructor said that my city usually does not issue unrestricted Class A licenses. Well after following all the steps laid out by the instructor I was issued a Class A unrestricted license to carry. It took about 6 weeks to get the license. Just wanted to say thanks to MFS for some great courses and instructors.