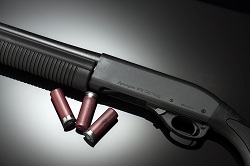 Cost is $175
Self Defense Shotgun 1 is a 4-hour class that covers what a person needs to know to tactically deploy a shotgun for self defense. 2 hours will be spent in a classroom environment dry firing and practicing with dummy rounds. 2 hours will be spent on the range firing your weapon in a self defense fashion.
Topics include:
The Law of Deadly/Lethal Force & Self Defense

Weapon, Gear &Ammunition Choices

The Castle Doctrine & The Effects of Stress on The Human Body

Safe Shotgun Handling Skills

Combat, Upload & Administrative Loading

Malfunctions And Their Clearing Procedures

Movement, Verbal Commands While Shooting
Please bring the following gear to class:
Must have firearms license.

20 or 12ga. Pump or Semi Auto Shotgun of your choice (a shotgun can be provided for you at no charge).

Ammunition Carriers (you can use your pocket if that's how you plan to carry extra shells)

75 rounds of 00 Buck ammo (available for purchase from our retail store).
Class is taught by a Law Enforcement professional with real-world experience tactically deploying a shotgun.
Instructor:
Robert MacQuarrie (SWAT)
Franklin Police Department Training Officer (Firearms, Active Shooter, Less Lethal)
Firearms Instructor, Massachusetts Police Training Committee
Metro-LEC. Regional S.W.A.T. & R.R.T. Teams


****Please Note: This is not a learn to shoot class. Attendees must have a proficient understanding of their firearm, including loading, unloading, and firing the firearm safely. If you would like to better familiarize yourself with your firearm before taking this class, please sign up for a Personal Range Time with an MFS Instructor here.